The polls are becoming ridiculous. We have the power to tell them, 'Eough, already!'
The Huffington Post is urging us to simply refuse to answer their questions when they call--then quietly hang up. So, had enough?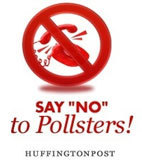 If you click on the link, you can get the icon to add to your
blog or site.